Headlines
MOSCOW CONFERENCE - 2016
Sunday, June 12, 2016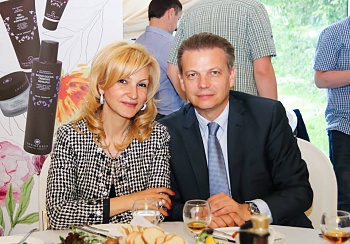 Traditional Vivasan summer Moscow Conference «The path of the winner!» has just ended. It was held on June 12th-13th in a picturesque conservation park Kolomenskoe and gathered 200 participants from different parts of Russian and other countries.



the rainy weather, the participants' mood was elated as very important issues were being discussed: how to effectively build a working strategy in the current environment and change it for one's benefit; what are the priorities; how to increase efficiency; what's new in the work of Vivasan that is expected in the near future and many other things. In Mr. Gottfried's statement this was not only understandable, but also served as a huge boost for the near future.
The details of the seminar program and the presented new products are going to be shared with yuo by Gayana Gottfried:
On June 12th and 13th the Moscow Conference was held in Kolomenskoe.
The seminar was opened by the Vivasan organizers-leaders – Solomyan Elena and Zherebtsova Natalia. Conducting a conference in Moscow has become a tradition, and so each consecutive year Elena and Natalia invest their energy, time and soul and take their duties of welcoming guests from different places very seriously! The Vivasan company would like to express its gratitude for organizing this event!
There were about 200 people from faraway and close cities, such as Voronezh, Vladimir, Novosibirsk, Yakutia, Krasnoyarsk, Orel, Balashikha, Pskov, St. Petersburg, Noginsk, Kursk, Saratov, Yekaterinburg, Nizhny Novgorod, Safonovo, Tver, Krasnodar, Belgorod , Rostov, Chelyabinsk, Schebekino.
Delegations from Czechoslovakia and Estonia also honoured us with their presence.
The theme of the seminar that was held by the Vivasan President – Thomas Gottfried - was called «The path of the winner».
It was dedictaed to the hard path of those who strive to reach their goals!
If you don't have precise objectives, then you will never achieve you dreams!
Only by paying attention to what you desire, you will achieve success!
With these words, Thomas Gottfried began his speech.
20 years of experience show that the difference between a successful person and a failure is that a successful person reacts to a problem immediately, when unsuccessful one postpones dealing with it.
Successful people are wondering every day:
- What have I accomplished? What should I pay attention to? What other problems can I solve?
The more decisions you make in your life, the more experience you gain! And with each time it'll become easier to deal with difficult situations.
Only 3% of the world's population achieve success!
Everyone wants to be a leader, but you must know what it takes to be one.
First and foremost it's an ability to take responsibilty for yourself and others!
Everything that is being discussed during this seminar comes from Thomas Gottfried's personal experience of managing a company, which demonstrates that a person who lives for his business can become a leader. To successfully build up a leader's structure a leader must have a clear idea of how to duplicate the right actions within the structure?
First of all:
1-a rookie should determine the exact figure of a desired income as well as an explanation for how this should be accomplished;
2-setting short-term and long-term goals to achieve results;
3-knowledge of the formula for calculating the desired earnings (what net and gross turnover do you expect to have, how many active distributors should there be in a structure and what is the sum of their avarege purchase);
4-check rookie's goal fulfillment;
5-check achievement of results.
Gala-dinner began at 20-00. A beautiful musical arrangement, set up tables with gourmet snacks and hot meals, festive outfits of the seminar's participants and good mood filled the tent in «Kolomenskoe». Even park visitors, strolling by, looked through the windows with interest.
By tradition, the first toast to success was raised by the Vivasan President Thomas Gottfried. There were carefully-worded wishes for success, as if addressing each of the participants sitting in the hall.
Also, it was interesting to listen to the memories about the seminar, which was held in Moscow at the Holiday Inn more than 15 years ago. Since there was a photograph presented on the screen, where Thomas Gottfied is walking on hot coals, about 10 people came out and each told their own stories of walking on hot coals. Vivasan newcomers couldn't believe that such a seminar did in fact exist. And those who went through this themselves, were happy to share their impressions.
Next we were entertained with the concert program. What was special about it was the fact that there were two soloists, one of whom was Marina Solomonyan, a talented singer and a member of the group «Panama», a finalist of the «Star factory», a back vocalist of Lubov Uspenskaya, and to everyone's surprise also the daughter of the seminar organizer Elena Solomonyan.
The other singer- Aleksandra Belyakova participated in the project «The voice» where her mentor was Gradsky and where she reached the finals.
Elegantly selected repertoire, remarkable performance of the popular hits and a beautiful duet of a brunette and a blond didn't leave anyone unaffected. Everyone danced with great pleasure, which made the singers very happy. It is especially nice when people finding themselves for the first time at such events, note that in the Vivasan company even holidays are a success!
On the second day, Thomas Gootgried gave a full explanation regarding the importance of comprehending what is product bioavailability.
As of today, for successful product promotion, it's not enough to know that a product was made in Switzerland.Competition is really high, and the market is replete with products from different countries and of different quality.
That's why it's so important to understand what makes up a product's price?
First of all:
The quality of raw materials

The quantity of raw materials in the product

Country of origin

What are the production criteria (for example, GMP standard)

Material from which the packaging was made (people buy with their «eyes») *Qualification of the personnel, working at production sites is also extremely important

Product bioavailability- i.e., the degree of substance delivery efficiency.
The largest amounts of money in industries are spent on bioavailability!
The product label should indicate the quantity of raw materials that are found in the product.
It's also essential to know that bioavailability of some of the food supplements decreases when taken with food that consists of nuts, whole grains and bean products.
Conversely consumption of food supplements with pomegranate seed oil, grapefruit seed oil extract and salmon oil increases bioavailability.
As for the cosmetic industry, the study of a single product amount to 25000-30000 francs! After all, cutting-edge cosmetics manufaturers conduct multi-stage laboratory analysis that allows them to study the impact of various ingredients on both the living organism and the cells.
Reading a cosmetic product label, you have to figure out if you are actually going to achieve the promised result or you are just going to pay for product advertising. Ingredients on the label are always listed in descending order. As a rule, the main component is water, in which natural oils are emulsified. You are lucky if water is followed by natural vegetable oils and extracts, and not by nature-identical ingredients.
If, however, an advertised ingredient is located almost at the end of the list, then its quantity is extremely low.
Next Thomas Gottfried moved to a topic that excited many warehouse and online store leaders: explanation of the inner workings of the VIVASAN webshop.
All the advantages of working with Vivasan were explained to distributors. Involvement with the Vivasan webshop was presented as a new opportunity for achieving success. And no one is going to create obstacles for those of them that decide to do business the old-fashioned way.
Everyone will be able to choose for themselves the right way of promoting their products!
A pleasant surprise was also a presentation of a new opportunity to get premiums that will become operational in a couple of months. This is another working tool that will enable fast money acquisition.
The whole seminar that was held by Thomas Gottfried, shows that the company will live through these difficult times! We don't stand still- we are constantly moving forward!
After dinner, which was held at the restaurant of «Kolomenskoye» Museum-Reserve, I, Gayane Gottfried, made a presentation about new products that are expected this or next year. Trying to cover all the material that was supposed to be presented at a seminar in Riga in front of the manufacturing representatives, I talked about six new products, developed by the Dr. Dunner company for Vivasan. Among them there are upgraded versions of commercially available products and absolute novelties. My favourite is the new product called «Protect your heart» Viva PYH from the producer GellPell; it is expected to be available by the end of the year. A great addition to vein and artery protection will be the product made of red vine leaves and horse chestnut.
Presentation of a new line for men Viva Cool (Intra Cosmed production) was accepted with enthusiasm. Particularly as the packaging was created by a young and successful designer – Silvio Sayler, and aromas were selected by a perfume designer - Michael Forster, creator of the world renowned fragrance Cool Water.
Moreover, Vivasan distributors will be able to use themselves and offer their customers and friends products made for men. This line has five products, including the toilet water Viva Cool. Perhaps the highlight of this rich in flavours composition is the new molecule ISO E Super, that enjoys great popularity among famous perfumers. After all, this molecule is a powerfu source of attraction that creates a sexual pheromone-like aura. It is activated by the skin's warmth and blends perfectly with musky floral and fruity accords.
Finally, I would like to present a new line that is called Viva Beauty.
It's interesting to note that there are two directions: «Fountain of Youth»- is designed for young skin, oily skin and skin prone to comedone formation. Rich composition, containing an extract of the perennial flux flower, beta-flucan, lecithin and mastic tree resin, will not only solve the problem of sebacerous gland blockage, but will also give the skin a pleasant sensation during use. Products in this line have a pleasant fine texture, and 12 aromas included in the composition, are truly exciting!
Ladies of an elegant age as well as those prone to dry skin are sure to appreciate the line «The secret of serenity»! This line has seven products and in the future it will be expanded.What distinguishes this line from many others is that its composition includes one of the most prominent peptides ever used in cosmetics- MATRIKSIL 3000. This is the latest stimulant for skin elasticity! The line includes everything you need to sustain your skin- Day cream with coenzyme Q10 (fights against pigment spots), Night cream with green tea extract, Tonic-lotion with hyaluronic acid, Washing gel, Biocellulose Face mask, Eye cream with precious oils and hyaluronic acid.
In conclusion, I would like to add something on a personal note.
The Vivasan company offers lots of resources to work with – Marketing plan with a variety of add-ons and features to achieve substantial and even high income level.
We offer a wide range of products, which are replenished every year, despite the economic crisis.
We provide opportunities to attend seminars, webinars and conferences.
Achieving succes with our company is possible, because you have a role-model to emulate!
Vivasan President Thomas Gottfried is following the path of the winner and is more than capable of leading the way for his entire team!
To take a look at the photos from the conference you can follow the links below:
https://yadi.sk/d/Iz1aF4vUsTA7N

Loading