Headlines
SEMINAR IN RIGA
Saturday, May 21, 2016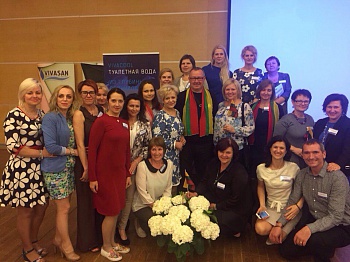 On May 21st-22nd, 2016 the capital of Latvia Riga had successfully held a seminar «The path of the winner».
In the cozy hotel Radisson BLU LATVIJA gathered more than 200 Vivasan representatives from around the world. Two days of an eventful seminar program went by in one breath.


Gayana Gottfried shares her detailed impressions:
On May 21st-22nd Riga, Latvia has successfully hosted a seminar «The path of the winner».
Vivasan-Latvia director Yelushkina Natalia organized this seminar at the highest level !
The event gathered more than 200 VIVASAN representatives from such countries as: the Baltic States, Russia, Germany, Belarus, Ukraine, Italy, Denmark.
The training took place in a comfortable hotel Radisson BLU LATVIJA 5 stars, in the heart of the city.
Two days, charged with positive emotions, qualitatively provided information, magnificent concert program at the gala dinner and performances of the Directors of Swiss production, breathed new air into the seminar participants and inspired the desire to work differently.
First day of the seminar
«Everything that I pay attention to, strengthens», - believes the President of Vivasan Thomas Gottfried. 90% of success depends on the right mindset. Especially in times of economic stability!
The ability to transform negative thoughts into positive ones, set goals, the art of taking responsibility for failures- things like that make up a winner!
A person always finds what he is looking for. And if you think about this expression, it becomes clear that we find exactly what we have been focusing on before!
Of course, it's your decision and it's up to you to decide which thoughts to have in you head! «Write down all the thought that come to mind», - advises Thomas Gottfried. 90% of people lose interesting ideas that could have led to success, as a result of being too lazy to take out a pen and paper. The moral of the forgoing is this: «Thought – Plan – Action – will lead to a positive outcome». And if you get a negative result, it's necessary to think on how to fix it.
As usual, information provided by Mr. Thomas Gottfried can also be applicable outside the Vivasan company: it can be used in any sphere- be it work or goal achievement in personal life.
Bioavailability of the Vivasan products was addressed in great detail. This is an important topic for anyone who uses or sells goods. This factor is one of the most significant quality signifiers!
At the end of the seminar an official Vivasan webshop was presented; its launch is expected in the near future. After all, Vivasan e-business is a business of the 21st century!
I, Gayana Gottfried, made a presentation of a product called Viva PYH.
This product is already being sold in European countries, and we expect it to take over other regions as well in the near future. Due to the fact that the drug is released in the form of microcapsules, the highest levels of bioavailability of water soluble tomato concentrate that is present in the composition is achieved.
Viva PYH protects against blood clots, predisposition to which most people acquire after the age of 35. Among all diseases, cardio-vascular ones are considered to be the most dangerous. That's why Viva PYH is recommended for heart disease and circulatory system preventive care. At the end of my speech I thought it prudent to acquaint everyone with vein gymnastics that should be practiced every day.
Viva PYH- Viva Protect your heart- is the latest unique high-end product in the world market. Analogous product in shape, bioavailability and performance doesn't exist at the moment.
I caught myself thinking that I've been saying this exact phrase more and more lately. And considering those new products that are expected to arrive in the near future, I would gladly repeat it again and again!
Elena Korneeva, who is a certified cosmetologist and a member of Anti Age Medicine Association, gave a speech on the topic «How to make sense of cosmetic product composition». And again the conversation revolved around bioavailability! As you know skin is the largest organ necessary for the body's protection. Often we don't even think that the main purpose of cosmetic ingredients is not just to penetrate epidermis, but also to affect its specific layers. That is why it's really important to know which ingredients penetrate the skin, what is a preservative, what is a seal and a thickener?
The purpose of active ingredients is to eventually reach a particular location. That's why it's important to give due to the vehicles transporting them there.
After the seminar a superbly organized gala dinner with a concert program was waiting for us. Contests, quizzes, known hits performed by the charming singers- all this created a wonderful atmosphere. In the middle of the celebration another surprise waited for the participants- the arrival of Swiss guests was greeted with thunderous applause. The culmination of the evening was the Brazilian show, at the end of which spectacular performers of incendiary Latin American dances went down into the hall and danced with everyone who wanted to try themselves in this dance style.
Second day
In the first part of the seminar guests from Switzerland took the stage.
The event was opened by a young, but already a well-known designer in Switzerland Silvio Sayler, who designs products not only for the Vivasan company, but also for other famous brands. He presented the packaging of the new Viva Cool line for men and a Viva Beauty line for women of an elegant age as well as a new line for young female skin.
To create a successful line you need not only inspiration, but also a marketing idea. As it turned out, we needed a story that would precede the line.
Combining design elements, fragrances and novelties, is part of the work that Brian Graf, Innovation manager, does for us. A detailed presentation of each of the abovementioned products from the line was given.
Everyone was charmed by the performance of the perfumer-designer, creator of the world-famous fragrance «Cool-Water», already familiar to us Michael Forster.«I always compare a great fragrance with a great man», - began his presentation perfumer. Strong character, originality, individuality- all these features I see in you. The same with aromas. If it possesses those qualities, then we can consider it special. After hearing it again, you'll say: «Оh yes, I know him!»
Mr. Forster presented a new toilet water Viva Cool, analysing each ingredient individually. A characteristic feature of this presentation was the fact that he stepped into the hall as if he wanted to convey valuable information to every listener.
Director of Dunner plant, charming Robert Bastrong, presented his new products, that are set to hit the stores very soon. Now they are in a certification stage. These are some of the products: Immune Fit, Moringa-Aronia juice, Bio Spirulina, Artishok-Holin capsules and Ginkolin Forte. Many of these products are familiar to those seminar participants that visited the Dunner production last year and were able to personally degust vitamin drinks. All you have to do is be patient and wait for these wonderful products to be added to our already varied assortment.
Silvio Frigoli, essential oils production director, came with his wife and a co-owner of their company Krista Frigoli and concluded the presentation of the Swiss guests.
Mr. Frigoli gave a speech on a complex topic: «Practical aromatherapy in psycho-emotional states (fears, stresses, disorders)».
Practical application, unique oil compositions and a clear explanation of the impact on the psycho-emotional state-all this those present were lucky enough to hear directly from the master of Aromatherapy, whose life's work is his company!
After a wonderful dinner, the second part of the day, filled with no less exciting Vivasan leaders' performance, awaited.
Inessa Grigorievna, PhD candidate, psychotherapist and professional aromatherapist from Belarus, was the first on stage. Very elegantly and in great detail information was presented, regarding the theme «With Michael Forster's magical fragrances on the way to abundance».
Fragrance application to specific areas plays big role in success. And knowing which flavour works best with which energy center will help you achieve your goals. Perhaps, we have never heard such poetic descriptions of the wonderful flavours «Houde Lounge», «Without» и «Oh Vegetal».
«What motivated you to attend the seminar?»- Vypritskaya Iraida Fedorovna started her presentation with this question. Everyone sitting in the hall had their own answer. The theme was: «Great motivators of successful businesses».
And great motivators according to Iraida Fedorovna are and always have been: Family, Recognition, A sense of Victory and Charity. Looking at business as a hobby, Iraida Fedorovna is always on the way to conquer new picks! This drive to experience a sense of victory, doesn't let her relax and leads to new successful achievements!
Iolanta Bubneliene is celebrating her birthday with Vivasan second year in a row! So this time, she got up on stage to give a speech on the topic «Vivasan in my life». «I was like a magnet, attracting all those successful people!»- Iolanta started her speech. «Vivasan's taste for me is a taste of quality!». I must say that Iolanta is from a small town Panavezhys in Latvia.
She works in Vivasan together with her husband and daughter. Their warehouse turnover sometimes exceeds the turnover of warehouse holders in major cities.
Everything has to do with Iolanta's inspiration. Her presentation was accompanied by a slide show. One of the photos showed her participating in a very famous talk show «It is what it is» as a cosmetics consultant, the other – a moment of relaxation with the help of aromatherapy in class at her club.
«When I learn and acquire interesting information, I can't not share it with my friends». This, perhaps, is this charming woman's secret of success.
Sheresheva Olga Vasilievna, a true master of her craft and a Career Ladder Director General, conclude the seminar.
Everyone loves to hear Olga Vasilievna's speeches, as they know that they'll not only get interesting material handling, but also tools to get the job done.
Those, who were here for the first time, note, that Olga is a professional.
The theme was called «Why do I need a discount card? – its benefits and capabilities».
First of all, you have to understand that you'll be able to successfully sell you Vivasan Membership card only if you can sell to yourself first! If you want it, then other people will want it too.
There are states without wich it's useless to start a business: Passion, Determination, Love, Drive/Game. In the slides depicting different sellers, many people recognized themselves. It's interesting that more often than not, when you start on a path of the great art of Commerce, you go through all the archetype stages.
РTalking about the Club's daily operations, Olga Vasilievna touched upon a few interesting issues that I would like you to ask yourself. Namely: If I don't promote Vivasan, then who will? – If I don't talk with this man, then with whom?
A precise explanation was also given on how to start business comunications, how many minutes to spend on each part of the conversation. Doing a presentation or making a deal, it's important to remember that there are: Introduction, the Main part and Conclusion. Talking about the Membership card benefits, you'll become successful only when you qualitatively provide full information, adhering to the stages of making a deal.
Thus our seminar came to an end. The all-around photo with the company President Thomas Gottfied, with the lovely Frigoli couple, with the famous perfumer Michael Forster, with Robert Bastrong, with designer Silvio Sayler and with Senior Innovation Manager Brian Graf finished up Vivasan's productive seminar.
Over 200 Vivasan representatives went home from the Bltic with a Pearl of Success!
Until next time!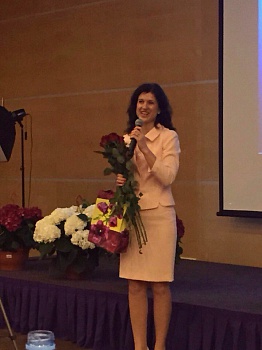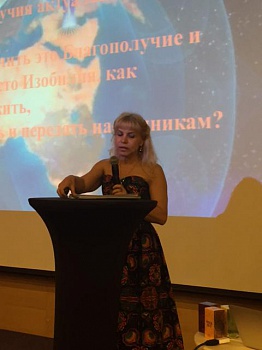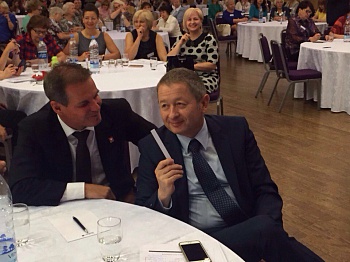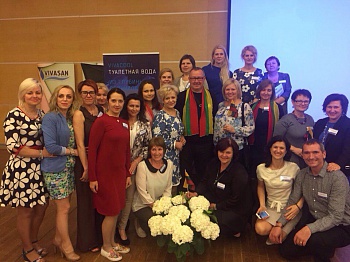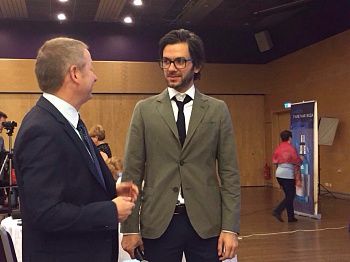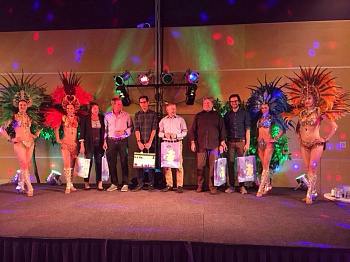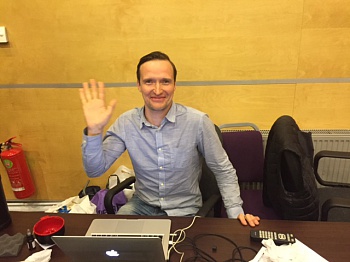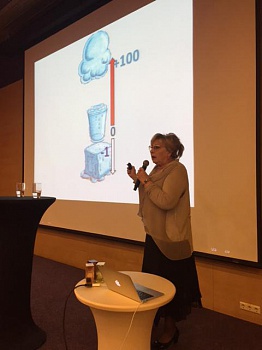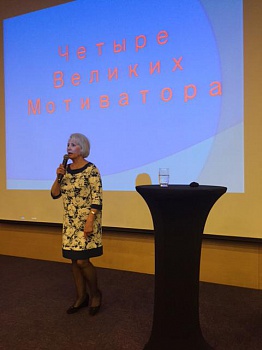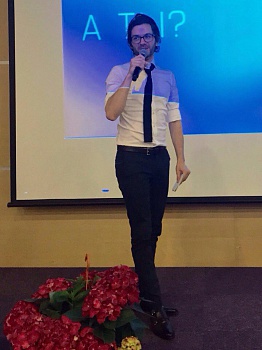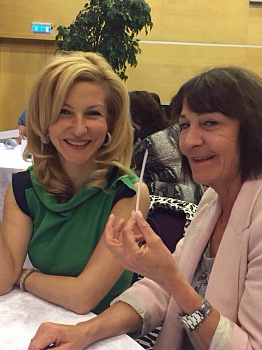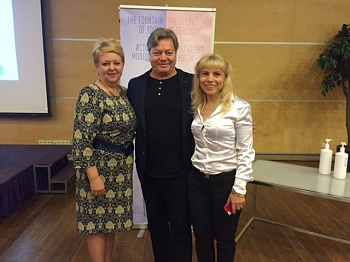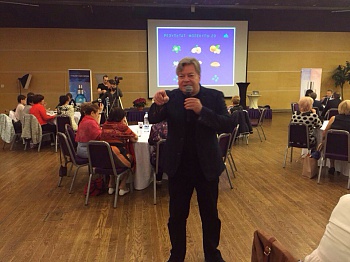 Loading